Cantilever Bridges | Top Longest Cantilever Bridges
What is a cantilever bridge?
A cantilever bridge is a bridge constructed using cantilevers, which project horizontally into space, supported on only one end. It is built with two cantilevers that meet in the middle bridge span – a structure that allows pedestrians or vehicles to cross an obstacle such as a river or canal or railway. The bridge uses projecting beams (called cantilevers) to support the central part.
For small footbridges, the cantilevers can be simple beam structures; but, large cantilever bridges are designed to handle road or rail traffic use huge trusses built from structural steel or box girders built from prestressed concrete.
The steel truss cantilever bridge became a major engineering breakthrough when first put into practice. It can span distances of over 460 Meters and can be more easily constructed at difficult crossings using little or no falsework.
History of Cantilever Bridges
The  first cantilever bridge was constructed  in 1867 by Engineer Heinrich Gerber. Engineer Heinrich had earlier invented the hinge girder  and  with his new invention, Engineer Heinrich  was able to lengthen the cantilevers and construct a bridge that was long enough to cross the Main River in Germany
As of 2018, the Quebec Bridge in Canada  is  the longest cantilever  bridge span of of  1800 feet (549 Metres).   Forth Bridge inScotland, the is another famous cantilever bridge span of 1710 feet.  It is made of steel and uses balanced cantilevers on river piers and on land to make a combined span of 3,300 feet .

Cantilevers must be firmly anchored on one side in order to support the the necessary load on the free standing side and prevent  shear stress. The best example of a small cantilever is a diving board. as  one side is firmly attached to the ground so that the other side can hold a person's weight suspended over the water.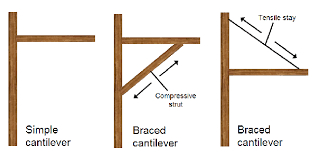 Cantilevers must resist compression in the lower and tension in the upper supports. Sometimes, a gap or waterway is too wide to be spanned by one cantilever on each side. In this case, a beam bridge or truss bridge is often placed between the arms of the two cantilevers, connecting them into one bridge. This type of bridge is known as a suspended span bridge.
Building Cantilever Bridges
Bridges are designed, first, to carry their own permanent  load weight( dead load) and secondly to carry the live loads(traffic) and, finally, to resist natural forces such as  earthquakes, or wind.
The first step in constructing a cantilever bridge is to build and connect the arms to the shore. River piers for balanced cantilevers should not be built until the cantilevers that touch the land are completed. If a  truss bridge or beams bridges   are necessary, they cannot be added until the cantilevers are ready. The beam bridges are most often built off-site and later when ready lowered with a crane into their position.
Top Longest Cantilever Bridges
Currently, the world  longest cantilever bridges by their longest length span  are  Quebec Bridge in Quebec,  (549 Metres )Canada  and Forth Bridge (521 Metres) a cantilever railway bridge over the Firth of Forth in the east of Scotland, near of Edinburgh City Centre
No
Bridge Name
Bridge Location
Length in meters (feet)
 Year
1
Pont de Québec
(longest from 1917 to present)
Quebec City and Lévis,  Canada
549 (1,800)
1917
2
Forth Bridge
(longest from 1890 to 1917)
Lothian/Fife,  Scotland,  United Kingdom
521 (1,710) x2
1890
Minato Bridge
Osaka,  Japan
510 (1,673)
1973
4
Commodore Barry Bridge
Chester, Pennsylvania, to Bridgeport, New Jersey,  United States
501 (1,644)
1974
5
Crescent City Connection
New Orleans, Louisiana,  United States
480 (1,575)
1958 (eastbound)
1988 (westbound)
6
Howrah Bridge
Kolkata, West Bengal,  India
457 (1,500)
1943
7
Veterans Memorial Bridge
Gramercy, Louisiana,  United States
445 (1,460)
1995
8
Tokyo Gate Bridge
Tokyo,  Japan
440 (1,443)
2012
9
San Francisco–Oakland Bay Bridge (east Bay span)
San Francisco, California,  United States
427 (1,400)
1936
(demolished 2016)
10
J. C. Van Horne Bridge
Campbellton, New Brunswick, to Pointe-à-la-Croix, Quebec,  Canada
380 (1,247)
1961
11
Astoria–Megler Bridge
Astoria, Oregon, to Point Ellice near Megler, Washington,  United States
376 (1,232)
1966
12
Horace Wilkinson Bridge
Baton Rouge, Louisiana,  United States
376 (1,235)
1968