Crown Paints Colours : Current Crown Paint Prices | Painter's Guide
Crown Paints Colours :
Crown Paints Ltd is the the leading producer of all kinds of paints across East Africa.  Crown Paints Kenya Ltd is a company that has been in the market for over 50 years and therefore have the taste of their customers and this has ensured that they provide the highest standards of the products.
Crown Paints Kenya Ltd offer decorative products and with their computerized color system, they present over 2000 Crown Paints Colours shades available in various popular interior and exterior finishes. Most of the decorative range are Gloss oil based, Emulsion water based, Textured Finishes special effects, wood finishes, Roof paints, Floor Paints and Next generation finishes. Below are some prices of decorative paint products.
PREMIUM EMULSION FINISHES – EXTERIOR
PRODUCT CODE
PRODUCT
PACK / PRICE
20 Ltrs
4 Ltrs
1 Ltr
C61AA
Crown Permacote Ultra Guard with Silicone
16,090
3,218
987
C05AA
Crown Permaplast Long Life Exterior Emulsion
14,755
2,951
887
C52AA
Crown Permacote Exterior Emulsion
17,325
3,465
1,040
with Teflon Surface protector
PREMIUM EMULSION FINISHES – INTERIOR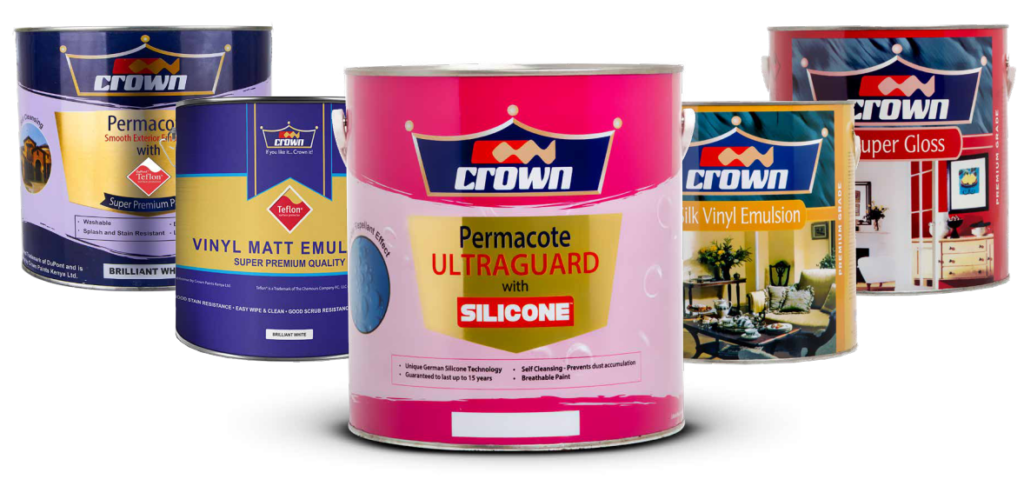 PRODUCT CODE
PRODUCT
PACK / PRICE
20 Ltrs
4 Ltrs
1 Ltr
C50AA
Crown Vinyl Matt Emulsion with
14,230
2,846
856
Teflon Surface protector
C01AA
Crown Vinyl Luxury Matt Emulsion
12,730
2,546
767
C03AA
Crown Silk Vinyl Emulsion
13,650
2,730
819
C03AD
Crown Medicryl Emulsion
14,780
2,956
C02AA
Crown Covermatt Emulsion
5,725
1,350
405
C06AC
Crown Covermatt +2 Emulsion
6,160
1,450
435
C07AC
Crown Transeal – Acrylic Clear Finish
10,815
2,163
651
(Brick, Stone, Quarry Tiles etc)
C07AB
Crown Echo Binder
5,985
1,197
GLOSS & SEMI GLOSS FINISHES
PRODUCT CODE
PRODUCT
PACK / PRICE
20 Ltrs
4 Ltrs
1 Ltr
C08AA
Crown Super Gloss
15,015
3,003
903
C09AA
Crown Eggshell Finish (Semi Gloss)
17,325
3,465
987
  ECONOMY RANGE
PRODUCT CODE
PRODUCT
PACK / 
PRICE
20 Ltrs
4 Ltrs
1 Ltr
0.5 Ltr
C13AA
Economy Vesta Emulsion
2,930
760
C14AA
Economy Vesta Gloss (All Shades)
6,800
1,360
409
231
C15AA
Economy Undercoat
6,800
1,360
409
231
C16AA
Economy Varnish Clear
1,376
376
203
C16AB
Economy Varnish Stain
1,384
420
C21AH
Economy Roof Paint – Red Oxide,
1,309
393
Green,Cornflower
C17AF
Economy Primer – Red Oxide & Grey
1,235
371
C17AA
Economy Floor Paint – Red Oxide
1,366
405
& Green
NGAO RANGE
PRODUCT CODE
PRODUCT
PACK /
PRICE
 
20 Ltrs
4 Ltrs
1 Ltr
0.5 Ltr
C13AF
Ngao Emulsion
2,280
456
131
C14AF
Ngao Gloss Enamel
4,810
962
271
153
C16AF
Ngao Varnish
1,299
341
204
C16AF
Ngao Redoxide Primer
847
264
172
WOOD FINISHES
PRODUCT CODE
PRODUCT
PACK / PRICE
4/5 Ltrs
1 Ltr
0.5 Ltr
C18AR
Crown Timber Master
3,090
667
C18AQ
Aquavar Varnish Clear
4,011
1,202
C18AQ
Aquarvar Varnish Colours
4,253
1,276
C18AB
Crown Woodseal Polyurethane Varnish
3,234
971
551
C18AB
Crown Polyurethane Varnish High Gloss
3,234
971
551
C18AB
Crown Polyurethane Varnish – Matt
3,449
1,034
588
C18AF
Crown Two -Pack Polyurethane – Gloss
6,269
1,880
C18AF
Crown Two- Pack Polyurethane – Matt/Satin Finish
6,720
2,016
C25AJ
Crown Two Pack Epoxy Varnish
7,796
2,342
C18AC
Crown Multi- Purpose Clear Varnish
2,321
698
399
C18AM
Crown Oil Varnish Stains (6 Shades)
2,420
730
415
C18AH
Crown Ronseal Hardglaze
4,174
1,255
599
C18AL
Acid Catalysed Lacquer – Gloss
5,198
1,559
C18AL
Acid Catalysed Laquer – Satin
5,507
1,654
C23AL
NC Sanding Sealer
2,040
561
C18AU
NC Clear
2,150
618
C18AT
An-teak Oil
2,210
442
ROOF & FLOOR PAINTS

PRODUCT CODE
PRODUCT
PACK / PRICE
20 Ltrs
4 Ltr
1 Ltr
C21AH
Roof Paint – Red Oxide
15,015
3,003
903
C21AH
Roof Paint – Green, Cornflower, Grey
18,560
3,712
1,113
C21AH
Crown Roof Master – Beetle Green, Red Oxide,
21,105
4,221
1,297
Cornflower, Brick, White
C21AH
Roofdec (For Asphalt & Bituminous coated roofs)
15,435
3,087
924
C21AR
Crown Butyl Rubber Paint
18,980
3,796
C21AJ
Concrete Floor Paint – Green & Others
17,430
3,486
1,045
C21AJ
Concrete Floor Paint Red Oxide
15,120
3,024
908
C21AI
Two Pack Epoxy Floor Paint Red Oxide
7,093
2,132
C21AI
Two Pack Epoxy Floor Paint – Green & Others
7,235
2,174
UNDERCOATS
PRODUCT CODE
PRODUCT
PACK / PRICE
20 Ltrs
4 Ltrs
1 Ltr
C19AA
Crown Universal Undercoat (Oil based)
13,125
2,625
788
C19AB
Crown Acrylic Primer Sealer Undercoat
13,310
2,662
798
C13AG
Crown Undercoat Emulsion Exterior / Interior
4,700
940
THINNERS
PRODUCT CODE
PRODUCT
PACK / PRICE
20 Ltrs
5 Ltrs
1 Ltr
0.5 Ltr
C27AA
White Spirit
6,560
1,640
490
270
C27AE
For Epoxy Paints
11,760
2,940
880
C27AM
For Roadline Paint
8,000
2,000
600
C27AD
For Two – Pack Polyurethane
14,880
3,720
1,115
C27AC
For Acid Catalysed Laquer
11,800
2,820
845
C27AF
For Chlorinated Rubber
7,800
1,950
585
C27AO
Hymeg Thinner
7,660
1,915
NOTES
All prices are in Kenya Shillings subject to VAT
This price list applies to goods delivered or collected within Nairobi
For deliveries outside Nairobi, an additional transport charge of 4.5% shall be applicable
This price list cancels all the previous price lists
All the disputes arising in connection with this price list are subject to Nairobi Jurisdiction
HEAD OFFICE
CROWN PAINTS KENYA PLC
Likoni Road, Industrial Area
P.O. Box 78848 – 00507, Nairobi, Kenya
TEL: +254 20 2165703/4
EMAIL: [email protected], [email protected]
www.crownpaints.co.ke                                               Call Centre: 0709 887 000
DEPOTS AND BRANCH OFFICES – KENYA
| | | |
| --- | --- | --- |
| AUTOMOTIVE DIVISION | CONSTRUCTION DIVISION | CROWN PAINTS MERU |
| P.O. Box 18112 – 00500 | 2nd Floor Muthithi Place, Muthithi Road, | Nanyuki Highway, |
| Dar es Salaam Road, Nairobi, Kenya | Westlands, Nairobi, Kenya | Next to Associated Motors, Meru, Kenya |
| TEL: +254 20 6651331/2, 6556019, 3524356 | TEL: +254 20 2349563, 2349565 | MOBILE: +254 724 001 251 |
| EMAIL: [email protected] | EMAIL: [email protected] | EMAIL: [email protected] |
| | | |
| --- | --- | --- |
| CROWN PAINTS KISUMU | CROWN PAINTS MOMBASA | |
| P.O. Box 2001 – 40100 | P.O. Box 84246 – 80100 | |
| Lower Ogada, Alego Street, Kisumu, Kenya | Gusii Street, Off Digo Road, Mombasa, Kenya | |
| TEL: +254 57 2024949/ 2024267/ 2024117 | TEL: +254 41 2314777- 8/ 2220412/ 6292/ 8762 | |
| EMAIL: [email protected] | MOBILE: +254 790 659 935 | |
| | EMAIL: [email protected] | |
| | CROWN DÉCOR WORLD – KENYA | |
| LAVINGTON | KAREN | NAKURU |
| 1st Floor Lavington Curve Mall, Nairobi | Ground Floor, Symbion House, Nairobi | Ground Floor, Westside Mall, |
| El Molo Drive, James Gichuru Road | Dagoretti Road next to The Hub | Kenyatta Avenue, Nakuru |
| MOBILE: +254 722 985 171 | MOBILE: +254 715 361 027 | MOBILE: +254 722 821 900 |
| | EMAIL: [email protected] | EMAIL: [email protected] |
| NYALI | MERU | ELDORET |
| Mezzanine Floor, Shop No. 35 | Nanyuki Highway, | Eagle Hardware, 1st Floor, |
| Nyali Centre, Links Road, Mombasa | Next to Associated Motors, Meru | Sosiani Street, Eldoret |
| MOBILE: +254 711 957 449 | MOBILE: +254 724 001 251 | TEL: +254 53 2033679 / 2032797 |
| EMAIL: [email protected] | EMAIL: [email protected] | EMAIL: [email protected] |
| | EAST AFRICA OPERATIONS | |
| DAR ES SALAAM, TANZANIA | ARUSHA, TANZANIA | MWANZA, TANZANIA |
| Plot No. 12, Dela Road, Mikocheni | Plot No. 279, Block E, Unga Ltd, | Mabatini Area, Camel Petrol Station |
| P.O. Box 61225, Dar Es Salaam, Tanzania | Arusha, Tanzania | P.O. Box 1392, Mwanza, Tanzania |
| TEL: +255 753 365 819, 745 200 299 | TEL: +255 753 115 551 | Tel: +255 754 888 779 / 687 884 499 |
| EMAIL: [email protected] | EMAIL: [email protected] | |
| MBEYA, TANZANIA | REGAL PAINTS UGANDA LTD | KIGALI, RWANDA |
| Warehouse No. 3, OTTU Godown Area, | Plot No. 74 Block 111 Mawotto – Namanve, Mukono | Warehouse No. 1, Yara Warehouse, |
| Block 'T' Road, Mwanjelwa, Mbeya | P.O. Box 32156, Kampala, Uganda | Free Trade Zone SEZ, Rwanda Estate Ltd, |
| Tel: +255 685913450 | TEL: +256 759 228 657, +256 757 270 971 | Gasabo District, Kigali, Rwanda |
| | Customer Care No: +256 752 228 951 | MOBILE: +250 788 387 440, +250 785 450 180 |
| | EMAIL: [email protected], | EMAIL: [email protected] |
| | [email protected] | |
CHECK >> Top 6 Paints Companies in Kenya