Mazeras Stone Design |Installation & Mazeras Stone Design Prices | Uses of Mazeras
What is Mazeras Stone?
Mazeras is a beautiful cladding stone from coastal Kenya that is mined in sheets from the ground.
It has progressed from being utilized mostly outside the courtyard to adorning walls inside homes or workplaces. It is available in yellow/brown, red, black, and green.
It has not only revolutionized the way interior décor is done, but it has also migrated to the outdoors by employing the same approach utilized indoors.
As homeowners want to make a statement with their porches and overall home décor, the utilization of unusual materials has given birth to improved landscaping.
The uneven forms of the stones may be changed to suit the desired function, either on walls or floors.
Interior and external wall cladding, skirting, balcony flooring, parking bays, pool deck construction, gardens, and any landscape designs are examples of applications.
The stone may be finished in a variety of ways, including a traditional mini set and Split face Mosaic.
Mazeras stones are mostly cut into different dimensions with the thickness ranging from; 25mm  to 100mm.
The length and with can be customized to measurement like 200mmx200mm, 200mmx300mm, 300mmx300mm, 400mmx400mm, and 300mmx600mm.
Mazeras Stone Designs
Mazeras stone designs are used by artists, wall painters, designers, and art lovers for decoration purposes.
It might be the best option for your beautiful home or office interior design as it is thin enough to be used in small spaces.
It is available in different colours and patterns and can be thought of for the bright or dull space that you want a unique touch to.
It requires very little maintenance, so it is an ideal choice. In short, all you need to do is to buy it in the right shape and colour based on its uses.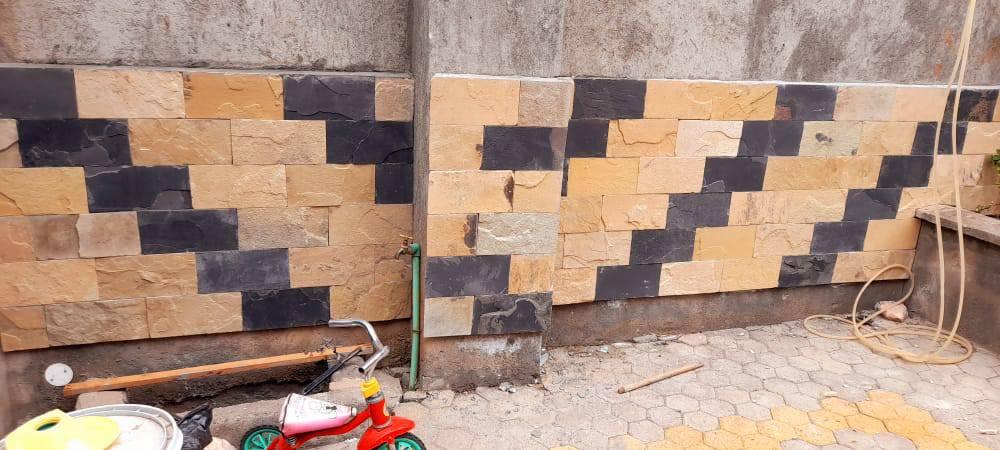 Installation of Mazera Stones
It is critical that the mazeras are designed and installed appropriately.  A skilled and sophisticated designer will ensure that the mazeras are used appropriately to either highlight or complement the overall style of the structure.
The designer will also decide on the size and color of the mazeras for the specific purpose.
Though the design may be good, it is equally critical to select a contractor that can deliver on quality and make changes to the design as needed, as blueprints are never flawless and frequently require adjusting.
A contractor that pays close attention to detail will make all the difference in installing and finishing the mazeras stone.
Applications of Mazera Stones
Mazeras may be used for a number of purposes, including kitchen and bathroom flooring and outdoor wall and chimney décor.
Mazeras is best utilized outside due to the significant temperature absorption of natural stone, which might result in uncomfortable chilly flooring vs. a moderately heated wood floor.
In addition, the rough surface of natural stone might be difficult on bare feet when compared to a smooth tile.
Despite being used for both functional and decorative reasons, mazeras are more commonly used for decoration.
Mazeras Stone Design FAQs
1. What is mazeras stones?
Mazeras Stone is a term associated with large stone pieces. Typically, they are used outdoors as a flooring surface.
They are also known as Mazagras or Mazos. The stone is obtained from the basement of coastal Kenya and has a high mineral constituent which is a natural abrasive in its composition.
Mazeras are natural stone tiles that are commonly used for interior and exterior finishing in Kenya.
Mazeras, when done correctly, may give character to the finished work and offer a natural and organic aesthetic that is typically sought after in high-end houses and complexes.
Mazeras distinguishes itself from other finishing alternatives such as tile due to two aspects.
The first feature is their strength since they are inherently scratch resistant and, depending on thickness, may be very resistant to cracking and chipping.
The second aspect is the look of genuine stone vs. imitation stone tiles; while the aesthetic difference is modest, it nevertheless exists.
How do you clean a Mazera?
Mazeras are best cleaned with a wet cloth and soap to remove stains.
With a few drops of mild detergents or a light liquid dishwashing detergent and warm water, clean stone surfaces. For optimum results, use a clean, soft cloth. If you use too much cleaner or soap, it can leave a film and produce streaks.
What is the cost of Mazeras stone?
The cost of Mazeras stone varies depending on the dimensions, thickness, and color. Prices for one square meter run anything from Kshs. 1000 to Kshs. 5000.
At an additional expense, more patterns can be made to match the client's designs.
 What is the standard measurement of Mazeras stone?
The mazeras' size and shape are built to order and can vary considerably. To minimize breakages, the larger the mazeras pieces, the thicker they should be.
Smaller parts as thin as 5mm are possible, and smaller portions can be specified when placing an order.
The size is determined by the position and pattern of the mazeras, which can range from 50cm x 50cm square sections to slim 2-inch widths.
What Are Natural Stones?
Natural stones are stones that have been found in the earth. They are usually found randomly in layers of sand and pebbles, so it is not at all unusual for a mazeras stone to show signs of weathering.
Natural stone has a variety of different finishes but most commonly has a natural color or an oxidized look to it.
These stones have been utilized as construction materials and ornamental decorations for thousands of years.
Mazeras, Granite, Marble, Limestone, Travertine, Slate, Quartzite, Sandstone, Adoquin, Onyx, and many more items are among them.
Natural stones are more than simply pebbles; they are hand-selected from the best, most consistent sources for durability and beauty.
Even among pieces from the same source, natural stone goods vary in composition, color, and texture.
This is typically regarded as an advantage since it allows for one-of-a-kind designs and unusual, dramatic applications.
What is the standard of mazeras stones?
Mazeras stones are all-natural, so they vary in color, texture, and pattern. This fact gives each specimen a unique look.
However, people have expectations of what a particular stone should look like when placed in its surrounding environment.
What causes the grain to be diffused?
Mazeras are natural stones and therefore display a wide range of variations in color-pattern texture, grain size, and sizes.
The reason for this is that the stone's origin in the ground is largely undetermined. It may be from a number of different layers.
When it comes out of the ground, it is tough and will show a wide range of grain variation. The variance in color also reflects what people usually look for in natural stone finishes.
This makes mazeras stones very useful to architects and home builders who want to construct more contemporary-styled homes and commercial buildings with a natural look.
What is the main material for mazeras?
The mazeras stone is a naturally occurring stone that comes from quarries in Gucha, a local town in Kenya.
Its main component is calcite, which makes up about 99.2% of its composition. This is an ingredient that gives the mazeras stone its natural abrasive property and hardness.
Is mazeras stone inexpensive?
Depending on the desired size and thickness of the pieces, prices can range from Kshs. 1000 to Kshs. 5000 per square meter.
How should I maintain the mazeras stone?
It is not advisable to use too much soap or detergent when cleaning a mazeras stone. It is advisable to wipe clean and dry the surface dry before staining it or before sealing it with a clear acrylic sealer.
When applying stain, the mazeras stone should be cleaned with a lightly soiled, damp cloth first to remove any dust, then let it dry thoroughly before applying the stain.
What is the warranty of mazeras stone?
The mazeras stones are of high quality and do not provide any warranty.
The warranty only applies to a breakdown in the surface because it is a natural stone and can be subjected to different causes, such as it being chipped, cracked, or chipped.
The pieces that are chipped or broken must be retained from the client at all times. These mazeras can also be cracked when dropped, so please keep this in mind when using them.
What are the pros and cons of mazeras stone?
Mazeras are natural stones. As such, there is a high level of variability in color, pattern, and grain size from piece to piece.
This makes it a very versatile product; however, it can also be frustrating for many people who have strong expectations for how their natural stones should look and feel.
What is the quality of mazeras stone?
The mazeras stone having a long history; it has been many decades since it was first used in building.
Therefore, the quality of mazeras stone is excellent because it has undergone thousands of years of experience and knowledge passed down from generation to generation.
What types of materials can I use to make the mazeras stone?
Mazeras can be used in many different designs and applications, from huge furniture to small decorative items.
How durable is mazeras stone?
Mazeras is a very hard and durable natural stone that can withstand rust, erosion, and wear. They are not porous and will not absorb any liquid, so they will keep their appearance for a long time.
Why do people use mazeras?
Mazeras are becoming increasingly popular in a variety of applications due to their look, texture, hardness, and ability to provide different colors that resonate with the aesthetics of the modern home.
Can mazeras stone be used outdoors?
Mazeras can be used indoors as well as outdoors on floors, walls, or even ceilings. It can help create an aesthetic look that defines the personality of a house or building.
It is suitable for areas such as halls, foyers, staircases and can also be used to cover damaged wood floors and provide an attractive pattern on wooden tables.
What is the difference between mazeras stone and marble stone?
Mazeras have a more varied look as compared to marble. Marble has a matte look to it, whereas mazeras have a slightly toned-down texture and a polished look.
You can easily tell that mazeras is a natural stone, while it's difficult to distinguish between ordinary quartzite and marble depending on the shade of its texture.
What is the difference between mazeras stone and granite stone?
The difference between mazeras and granite is the look. Granite is a great piece of natural stone that has a smooth texture, while mazeras stones have more variation in color, pattern, as well as texture.
The other difference is that granite costs more than mazeras. Where granite makes up about 3% of the Earth's crust, mazeras make up only 0.2%.
What is the difference between mazeras stone and other natural stones?
There are many differences in natural stones, but mazeras has a unique texture that is smooth with a polished look, which is different from other natural stones.
Is mazeras stone durable? Why should people use it?
Mazeras are a very hard and durable natural stone that can withstand rust, erosion, and wear. They are not porous and will not absorb any liquid, so they will keep their appearance for a long time.
If a mazeras stone is broken, can it be fixed?
Small pieces of mazeras stone may be removed and replaced with new ones. However, the larger the piece is, the more difficult it is to replace. Natural stone slabs are generally more likely than other natural stones to break or chip.
Where should I use mazeras stone?
Mazeras stone is suitable for floors, walls, and ceilings. It can help create an aesthetic look that defines the personality of a house or building and makes it very useful in changing the look and feel of any room or space.
Does mazeras stone have any specific uses?
Mazeras can be used in a number of ways, including as decorative elements for walls, furniture, or staircases.
It can also be used for use as a natural scuff pad on wooden floors or tables. It is also very popular in areas of need such as in residential, commercial, and industrial buildings such as libraries, schools, and curio shops.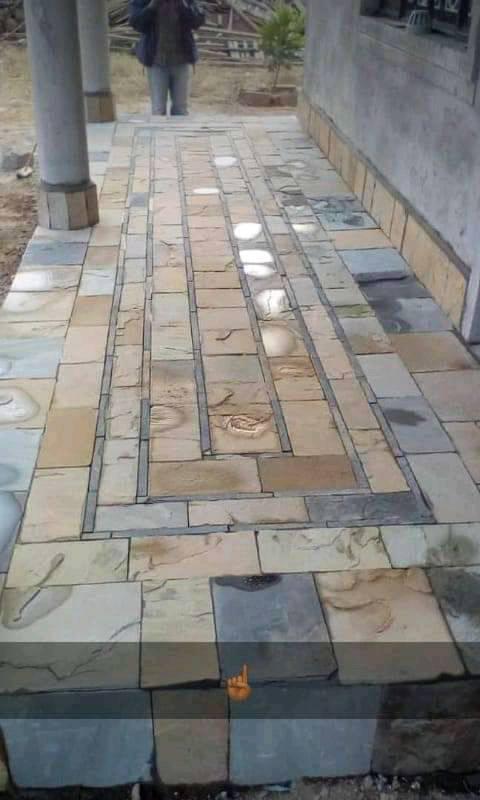 Is mazeras stone eco-responsible?
Mazeras has been around for thousands of years and has had minimal impact on the environment because it is a natural product that is not over-burdened with minerals or chemicals that can harm the environment.