TMT Bars | Bar bending Schedule (BBS) | TMT Bar Weight
TMT Reinforcement Steel  (TMT Bars)
Thermo Mechanically Treated Bars (TMT Bars) are is high-strength reinforcement steel bars with a tough outer core and a soft inner core. TMT Bars are known for their high tensile strength and ductility. Generally, there are two types of TMT steel bars used for reinforcement to work;
FE 415
FE 500D or FE 500
FE denotes iron and the number 415 or 500 indicates minimum yield stress and the letter D denotes ductility.  FE 500 D is most commonly used.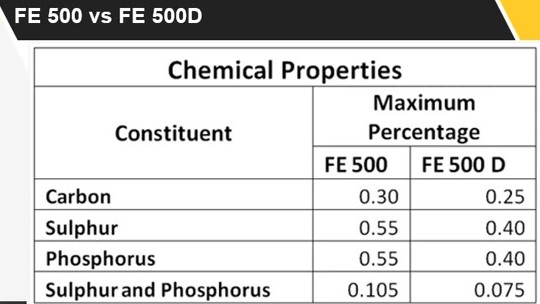 As shown the lower content of chemicals makes 500 D better product by having better ductility resistance together on fire.
The table shows the activity and elongation properties of  FE 500 and FE 500.
TMT bars along with concrete are able to carry large loads and offer protection to a structure against earthquakes and windstorms.
Advantages of TMT Bars
TMT bars provide high bond strength. Has bonding with concrete is strong.
TMT Bars offer better fatigue strength. It can carry large and continuously varying loads.
Less grain RCC due to the high bond with concrete.
It can bend easily, which helps in providing various shapes on sizes
TMT steel bars can be welded without loss of any strength or properties.
Thermo Mechanically Treated (TMT) Bars are corrosion Resistant
Properties of Good TMT Bars
The ribs on the surface should be uniforms.
The diameter of the bar should not vary.
Rebar should not be brittle in nature but soft for working.
The bar should not break into pieces during bending
TMT Bar Weight
| | |
| --- | --- |
| TMT Bar Size (In mm) | TMT Bar weight in kg/m |
| TMT Bars 5.5 mm | 0.186 |
| TMT Bars 6 mm | 0.222 |
| TMT Bars 8 mm | 0.395 |
| TMT Bars 10 mm | 0.617 |
| TMT Bars 12 mm | 0.890 |
| TMT Bars 16 mm | 1.580 |
| TMT Bar 20 mm | 2.470 |
| TMT Bars 25 mm | 3.850 |
| TMT Bars 28 mm | 4.830 |
| TMT Bars 32 mm | 6.310 |
 Do's and don'ts of TMT Bars
Ensure length off each bar is between 11 and 12 m. The table is shown the number of bars in a single bundle depending upon the diameter of the bar. Reinforcement steel should not be more corroded on preferably be greyish in color.
It should be free of grease, paint, or other foreign material. Ensure the weight per meter of steel bars arrived on site is as per IS specifications.
Each shipment should have a mill test certificate. It indicates the chemical on the physical properties of the lot.
Approx. number TMT Bars pieces in each Bundle
| | | |
| --- | --- | --- |
| TMT Bar Size in mm | Length of TMT Bar | TMT Bars per bundle |
| 8 | 12 | 10 |
| 10 | 12 | 7 |
| 12 | 12 | 5 |
| 16 | 12 | 3 |
| 20 | 12 | 2 |
| 25 | 12 | 1 |
| 28 | 12 | 1 |
| 32 | 12 | 1 |
Ensure that the copies of this certification are kept in the file. Certification may be submitted for the review and approval before the beginning of fabrication and delivery to the site
Field test for binding wire should be of 16 gauge, should be soft and working so the binding will be possible should not be corroded. Otherwise, it will break during binding when tied. It should not loosen from its position.
Rebar- Bar Bending Schedule (BBS)
Reinforcement is one of the most expensive items on a construction project. It is approximately 15 to 20% of a civil construction cost. With the increasing cost of steel, it has also become necessary to have proper cutting arrangements to minimize the wastage of steel.
Rebar Wastage Control
Scraped from the bar cutting can be reused at some places like spacer bar, lugs for insert plate and angle, chairs, extra bars, U shaped bars and wall scraped from the bar.
Cutting can be reused as an extra bar and cut out reinforcement scraped from the bar. Cutting also can be reused as U-shaped bars in wall
Bar Bending Schedules
Bar Bending schedule is popularly known as BBS. Typically, there are a few 100 shapes and sizes of rebar members on a project.
Some Reinforcement Bar shapes
Why Bar Bending Schedule (BBS) is Important
Bar Bending schedule also helps the fitters get the exact cutting Length of steel required for each member on mistakes made by fitters can be avoided.
It helps in proper planning on the reduction in wasted and scrap formation.
BBS helps in organizing and helps in quality checks.
BBS also helps in cost-effectiveness during quality checks.
In some typical projects, reinforcement shapes and sizes can vary to a few hundred.
Planning and wasted reduction is very important, which helps in cost-effectiveness during quality checks, but it is most tedious and time-consuming.
Typical Reinforcement Labeling
Reinforcement labeling for stirrups is shown;
4 Legged 15 to 8 at 150.  It stands for a number of legs (4),  15 stands for a number of bars (15). Toss stands for the type of steel (High Yielding Strength D

eformed bars

-H YSD/TMT) @ stands for the diameter of Bar,  150 stands for spacing.
Some points of consideration while bending the bars.
Ensure that the cutting area is near to the working site so that handling will be easier.
Now it is done on a bar bending machine to ensure the diameter of the bar is, as per drawings.
Verify the cutting length considering bend elongation so there will be no shortage in bar length.
After bending equation or find out the cutting length of bending bar is:
Two into a plus two times diameter of stirrups Bar plus B plus two times diameter of stirrups bar plus two numbers of hooks minus three numbers of 90 degrees bent, minus two numbers of 135 degrees bends.
Some important cut length issues.
If cutting length is shot, stirrups will not fit properly, and it will lead to increase and cover or decrease an effective depth
If the length is more, stirrups will be installed in a skewed manner, resulting in congestion of reinforcement.
Bar Bending Schedule
Bar bending is traditionally done on a made-up 'Thia', Fitters use different tools as the diameter of bars. In recent times, it is done using a mechanical bar bending machine.
One can follow the steps of the particular job of bar bending, cutting, and placing
Bar Bending Schedule for Footing
Bars should be cut in shapes after deducting the side cover and jail can be made after that. Cut L shaped bars for columns also, cut the bars of respective diameter for rings of columns considering the proper length based on bar schedule.
The rings are then prepared from cut bars considering the width and breadth of the column after deducting covers.
Prepared foot in jail, then placed to the position after matching the center of the column by maintaining bottom and side covers.
Bar Bending Schedule for Beams
Verify the bottom bars bent up bars on top bars along with ring details as per the given drawing. Preferably actual dimensions should be taken after shuttering for the bar cutting
Cutting should be done beam wise, tie a chit of paper for easy identification of the bunch.
Then cutting should be done and rings should be prepared. Beams should be bound on the solid platform along with bent-up bars and shifted to the shuttering of the slab by providing proper cover for continuous beams.
Bent a bar should be properly extended and tied by binding wire.
Bar Bending Schedule for Slap
Cutting should be done according to the cutting length of the bar of the slab.  Consider the projected length of bars in the continuous beam while bar cutting the cutting bars should be stored and transferred to the respective slab in bunch wise.
Center to center distance should be marked on the shuttering plate of the slab with chalk or marker. Placed the main reinforcement as per marking and above that, place distribution steel by tying every junction.
Reinforcement Bars should be bent according to slab thickness and refers to drawing and chairs should be laced at every bent. Hidden beans should place according to the centerline of the beam matches that of the wall.