Types of Epoxy Coating Floor options for you
There are a good number of different types of epoxy coatings available in the market today.  The common once include   self-dispersing epoxy coatings, self- leveling epoxy coatings, mortar epoxy coatings, epoxy terrazzo coatings, graveled epoxy coatings  and epoxy antistatic coatings.
The are over 10 different epoxy and industrial flooring systems available in the market. Here are a few of our most popular:
Self-Leveling Epoxy Floors
Self-leveling epoxy is applied over new, old, cracked, or damaged concrete floors to create a smooth, seamless, durable, and low maintenance flooring surface. The self-leveling system is also available in a variety of colors. Colors are used to make decorative designs, denote traffic patterns, or highlight work zones in industrial settings.
This system is used when you need aesthetic appeal and/or abrasion, chemical, heat or slip resistance. Good for manufacturing facilities, warehouses, showrooms, commercial garages, kitchens, aircraft hangars, athletic facilities, and more.
Ultra-tough, this is the strongest epoxy floor system available. This high-build, seamless system is made with 100% solids epoxy and graded sand or quartz sand and then troweled into place. Mortar systems are highly impact and chemical-resistant. This system is also effective in repairing old floors because of its high-build process. Good for manufacturing plants, mechanical rooms, warehouses, commercial kitchens, restaurants, garages, and service areas where heavy equipment, such as forklifts, would be used.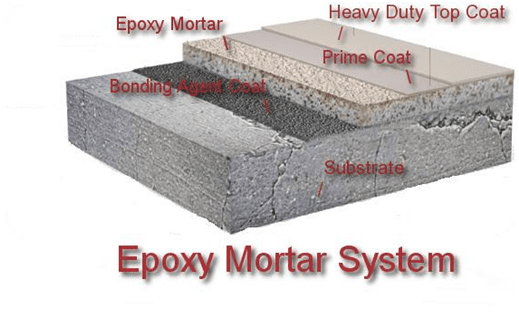 Quartz-Filled Epoxy Floors
Quartz epoxy flooring systems combine high-performance epoxy polymer resin with colored quartz grains. The result is a multi-functional floor that's decorative, sanitary, slip-resistant, and exceptionally durable. Good for schools, cafeterias, showrooms, light manufacturing, lobbies, offices, and more.
Anti-Static Epoxy Floors (ESD Resistant Floors)
Electro-static charge (ESD) can be extremely dangerous in many work environments. Anti-static epoxy flooring helps to reduce static hazards. This flooring system typically contains a conductive material that accumulates static electricity to drain, ground, or dissipate any potential discharge. It's highly recommended in environments that contain flammable materials
Excellent for Healthcare facilities, electronic, chemical or pharmaceutical manufacturing facilities; areas that use flammable gases or liquids or risk combustible dust buildup.
Flake floor systems are made when colored chips or flakes are placed within the epoxy to create vibrant, multi-hued, seamless, resilient surfaces. The chips are not only aesthetically pleasing, but their slightly rough surface reduces slips and falls. The flakes are available in an endless variety of colors, styles, textures, and sizes and can be mixed into the combination of your choice. Good for commercial kitchens, locker rooms, sports venues, automotive showrooms, veterinarian clinics, laundromats, and more.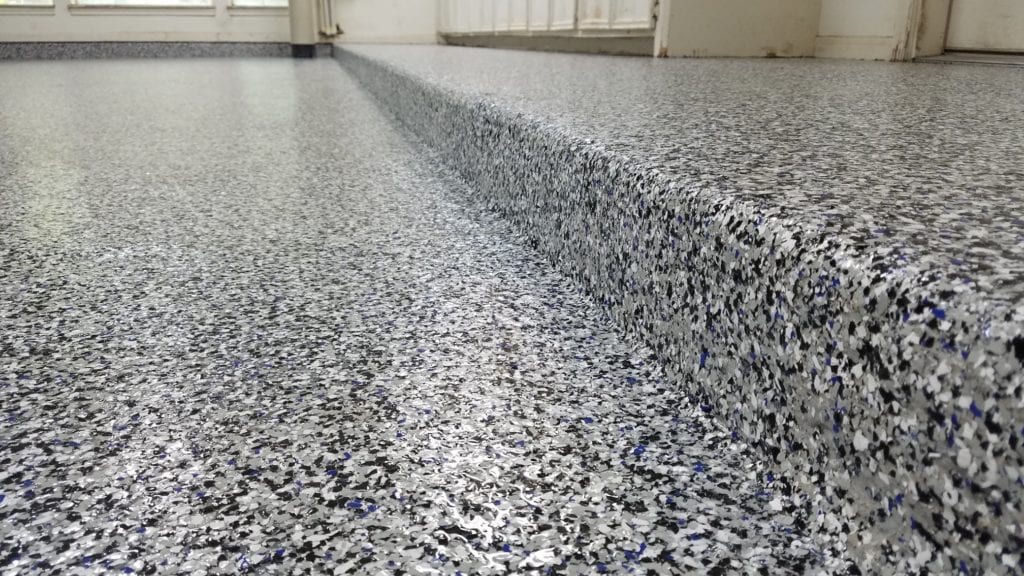 In Summary
Epoxy is a unique solution because it's not only incredibly practical, but the materials used in it make it flexible for almost endless applications. Whether you need to make a beautiful entrance to your hotel lobby, or create a fire-proof warehouse floor, there's an epoxy system for you.
We provide installation services.  Reach us on WhatsApp  +254722888721 or email : [email protected] or request a quote below…