7 Benefits of Having Warehouse Epoxy Flooring
Warehouse Epoxy Flooring: Epoxy floor coatings to your warehouse is a solid investment  and has over the years received many positive reviews from homeowners and business professionals alike. Though there is a wide variety of floor finish choices, epoxy flooring remains the best option for industrial and commercial facilities.
Here are the key benefits of Warehouse Epoxy Flooring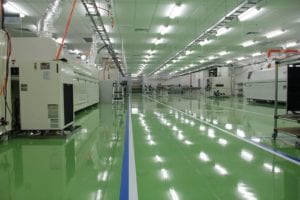 Your warehouse doesn't need a cool design and creative décor. But it must look professional. Available in a wide range of colors and styles, epoxy floor coatings can cover the boring, ugly concrete floor along with minor imperfections, such as superficial cracks, making it more appealing.
Besides improving the appearance of your warehouse, an epoxy coating will transform your regular concrete floor into a non-porous, smooth, stain-repellent surface that can easily be wiped free of dust, dirt, and debris. Furthermore, you no longer have to worry about the bacteria that typically hide in porous concrete surfaces.
Epoxy floor coatings deliver some hard-wearing, durable flooring solutions that can withstand intense foot traffic as well as normal warehouse equipment like forklifts without showing any signs of wear and tear. Industrial epoxy flooring solutions also have a long lifespan and make concrete floors chemical resistant, saving businesses thousands of dollars in floor repairs.
Because epoxy flooring is less expensive, lasts longer, and resists impact damage much better than other floor finishes, it's the most cost-effective flooring option for warehouses. Additionally, epoxy flooring reflects light, reducing lighting costs, and can be applied to different thicknesses, which makes it appropriate for a wide range of applications.
Allowing for faster inventory movement through the warehouse, minimizing machine breakdown along with employee downtime, and reflecting light to improve brightness in working areas by up to 300 percent, epoxy flooring can substantially increase the productivity in your warehouse.
Developed with safety in mind, epoxy flooring products are resistant to slippage, fire, and impact. You can also use different colors to define specific zones in your warehouse, such as forklift traffic zones, work zones, and safety zones.
In addition, applying an epoxy coating to your concrete floors will help prevent concrete dusting, which results from the disintegration of the porous, unsealed concrete floor surface under traffic. Besides collecting on inventory items and damaging equipment, concrete dust poses real health risks to workers.
 Minimum business disruption
Epoxy floor coatings are easy and fast to install, which means that you don't have to interrupt your business operations for a long time. As soon as the floor dries out completely, you can resume your regular warehouse activities.
.

If you're interested in our epoxy flooring solutions, call us today on +254722888721 for a quotation or details on how we can help you turn your new or old concrete floor into a durable, functional surface while saving money, time, and effort.